Easy Context Menu (ECM) lets you add a variety of useful commands and tweaks to the Desktop, My Computer, Drives, File and Folder right-click context menus. This enables you to access the most used Windows components quickly and easily. Simply check the box next to the items you wish to add. Once added, just right click and the select the component shortcut to launch it. Easy Context Menu is both portable and freeware.
Last update – Tuesday, 29 June 2021 (Silent Update)
[Fixed] – Sticky notes doesn't work on Windows 11
Last General update (08.08.2015)
[Fixed] – Windows 10 Registry writing Problem
[Fixed] – Restricted user permission issues
[Fixed] – If you change a group name in the List editor, target combo menu doesn't update itself
[Fixed] – Block keyboard needs admin permission
[Fixed] – Tooltip doesn't work properly
[Fixed] – Attrib screen is too narrow
[Fixed] – Command prompt bug and some minor translation errors
[Added] – Load saved settings icon
How to use
Extract the ZIP to the folder of your choice, and then run the program. Select your desired context menu entries by ticking the adjacent checkbox, then click the Apply Changes button.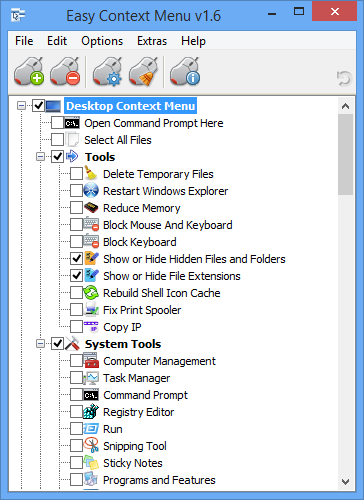 Easy Context Menu has six main categories, and three sub-categories:
1. Desktop Context Menu
2. My Computer Context Menu
2a: Tools
2b: System Tools
2c: Turn Off options
3. Drives Context Menu
4. Folder Context Menu
5. File Context Menu
6. EXE file Context Menu
Found within are all of Sordum's small tools: Delete Temp Files, Restart Windows Explorer, Show or Hide Hidden Files/Folders, Show or Hide File Extensions, Rebuild Shell Icon Cache, Select All Files, Copy IP address, Reduce Memory, Fix Print Spooler, Take Ownership (which has no UAC problem and it also works in Windows XP).
You can elect to show or hide the icon for any item by right clicking on it and selecting "Enable Icon". Click "Enable Icon" again to toggle it back off.
The same menu allows you to arrange icon positions (Top, Middle or Bottom) or jump directly to the registry key for that item. The "Enable Shift-Click" option sets the item as hidden on the menu until you press the Shift key, which then makes it visible.
Add any program to your context menu
With Easy Context Menu, it is very easy to add any program to your right click menu. To do so:
1. Open the List Editor
2. Drag and drop your desired program into the editor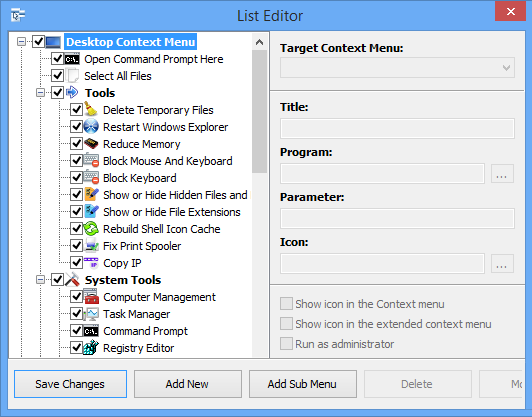 3. Click the "Save Changes" button and close then List Editor
4. Now you will see the newly added program in ECM's main window. Just select it and click the Apply Changes button.
How to Clean the Right Click Menu
The context menu is often abused by software vendors who add useless entries without asking permission. You can use ECM's new context menu cleaner feature to remove all unwanted entries.
Just select an unwanted entry and click the Delete button to remove it from your context menu. It's that simple.
Block a Program in Windows Firewall
To block a program in Windows Firewall using ECM:
1. Add the 'Block In Windows Firewall' entry to your context menu
2. Right click on any application (exe) and select Block In Windows Firewall. To remove an application from being blocked, right click and then choose "Remove From Windows Firewall".
Windows 10 BUG
Please be aware of a well known (except, apparently, by Microsoft) bug in Windows 10 — if you change the "Open File Explorer to" This PC, and then add context menu items, you cannot use Windows Explorer properly because explorer.exe will automatically run the most recently added right click item. We have reported this bug here (with no response, as yet).
There is a temporary workaround you can use – if you add anything under the My Computer context menu, please check the box by "My Computer (for Win 10 bug)" entry as well. Then you'll be able to use Windows Explorer normally.
NOTE: We are still waiting for a fix from Microsoft
Please don't use take ownership feature on windows system files and folders (For example Fonts folder etc.) . It may cause windows to not work properly
Supported operating systems: Windows 11 , Windows 10 , Windows 8.1 , Windows 8 , Windows 7 , Windows Vista , Windows xp – (both x86 and x64)
Supported languages: English , Turkish , German , Italian , Vietnamese , Russian , Polish , Korean , Spanish , Hungarian , Chinese (Simplified) , Chinese (Traditional) , French , Japanese , Portuguese-Br , Greek , Danish , Dutch , Persian , Ukrainian , Hebrew , Romanian , Uighur , Czech , Arabic , Swedish , Slovenian , Portuguese-PT , Indonesian , Serbian , Bulgarian, Latvian , Norwegian
File: EcMenu_x64.exe │ Virustotal
MD5: d4cae9981946b6e2fb1cf52eedd10261
SHA1: 721e03a68539a11c72a0be3849dbb34a4989e3fa
File: EcMenu.exe │ Virustotal
MD5: fdea0366e834590a45a95bd697b4b1a3
SHA1: 0e1754ef45d6cb2c95c56522a6a9da915f875796